First month of the year brings a new team at SOS
By kate blue - Saturday, January 04, 2014
Scrap Our Stash welcomes a new DT this month and if you were following over at their blog, you would see that yours truly has jumped back into the scrap mojo and is part of the 2014 team!
OUR 1ST CHALLENGE OF THE YEAR IS A RECIPE FOR SUCCESS!
Here's how this challenge works:
Create a NEW layout and you must add….
AND..... (1) RUB ON!!!
All items used for the countdown must be PREMADE/PACKAGED scrap products.
(Example: (5) Flowers, (4) Patterned papers, (3) Wood Veneer, (2) Chipboard pcs (1) Rub On
You are allowed to add whatever else you want to your layout as long as you meet the requirements to set forth in the countdown. In your blog or gallery post, you must list the items you chose and how many for each item. For all the rules, hop over to Scrap Our Stash!
As always, the super talented DT makes some crafty goodness to jumpstart your mojo...I will be up on their blog Monday with my first reveal !! For now though, a sneak to peak the interest LOL:
and btw, THE SCRAP-ROOM is our generous sponsor of this month's challenge prize!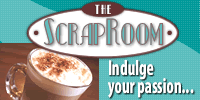 They are generously offering a $20.00 gift certificate to one lucky randomly drawn participant!
Break out the stash, and let's see what ya got!